Villa Tara, Bigova

Montenegro

Superior Location by the Adriatic Sea
5 minute walk to Bathing Area, Bars/Restaurants and Shop
4 Bedrooms 2 Bathrooms 2 Kitchens
Air Conditioning WiFi
Large Private Terrace


Free On-Site Car parking
Fully Managed Property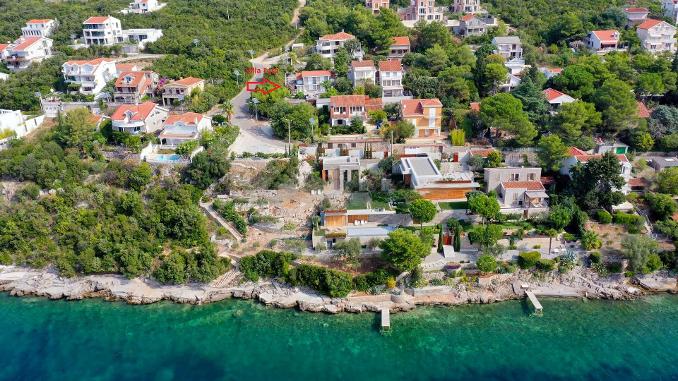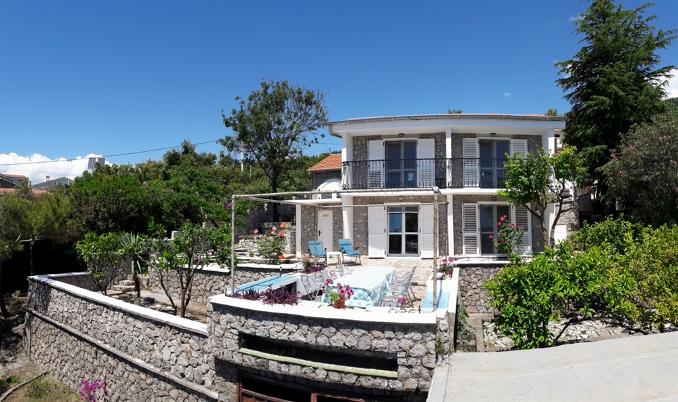 Villa Tara is a renovated four bedroomed detached house built on three levels, located directly beside the Adriatic sea. The upper and lower terraces offer spectacular sea views.
The house is ideally suited to a large group, as it has 4 bedrooms, 2 bathrooms and 2 kitchens. There is also a summer kitchenette with small barbecue. The house is less than 5 minutes walk from the bathing area, harbour, bars and restaurants and small shop.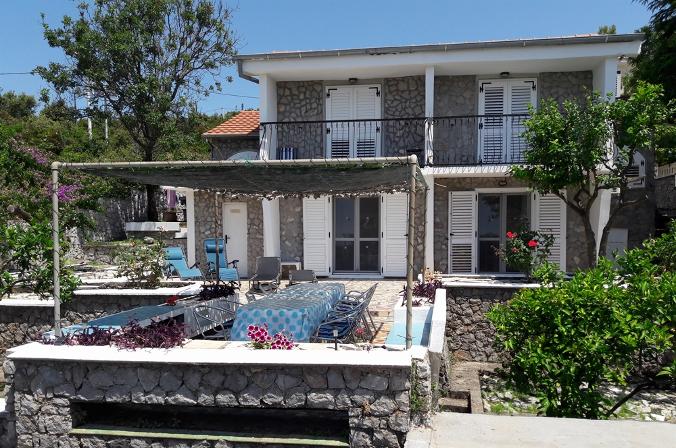 Villa Tara is a fully managed property.
Guests are greeted by a representative of our management company in Bigova and given house keys after a full tour of the house.
The house is fully cleaned before guests arrive, beds are made up with fresh bed linen and clean towels are provided. We also provide beach towels.
Our representative will provide contact numbers and details of the services offered by their management company. The company has an office in Bigova, which is located just a 2 minute walk from the house, should you need any assistance during your stay.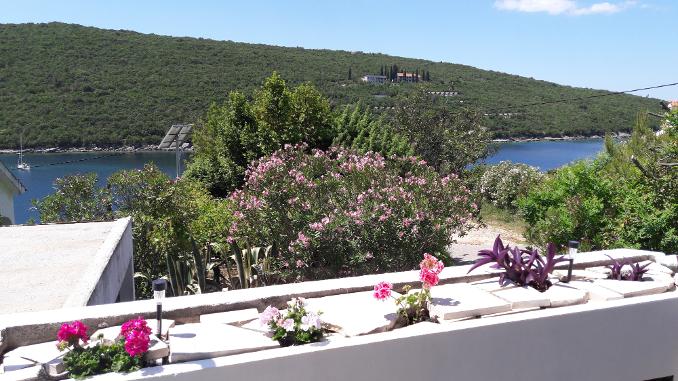 The garden surrounding the house is landscaped with several different levels that have 2 sets of tables and seating for dining al fresco, there is also an outdoor garden shower.
The grounds also contains grape vines, lemon and mandarin trees.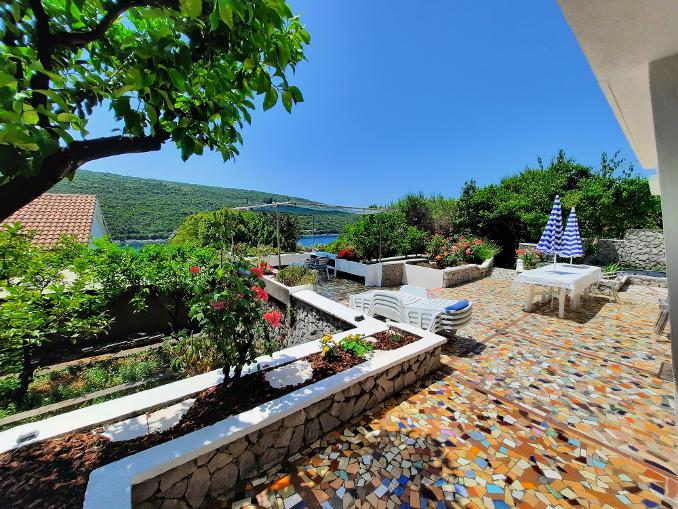 Garden furniture includes tables, parasols, chairs and sunbeds.
Our Terraces are Private and Not Shared with any other house or guests
The South facing ground level terraces (over 60sqm) and upper balconies at the front of the house enjoy sunshine all day.
At night our terrace and lower gardens are lit by solar lights.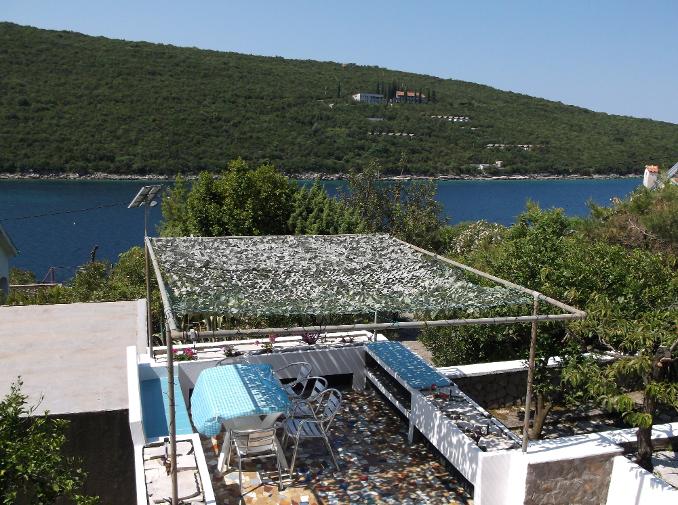 Directly across the road from the house are steps which descend to a bathing area of crystal clear seawater. In the village there are 2 small beaches- more suitable for children to swim. There are also several beautifulbeaches within a 20 minute drive from the house.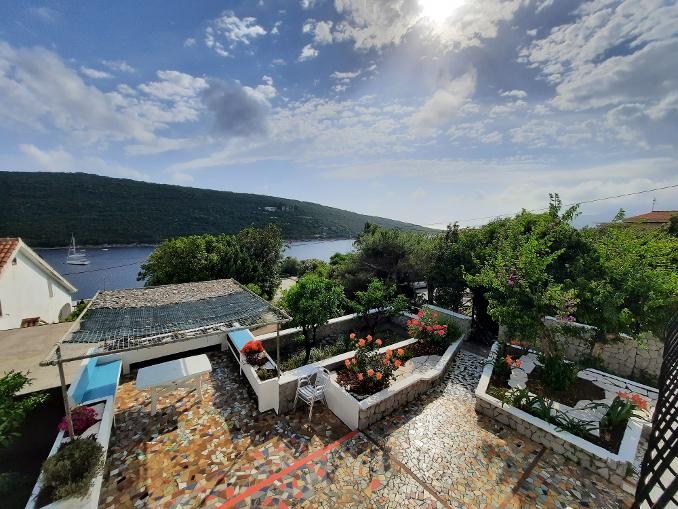 Inside the house, the open plan living and dining areas are separated by a large archway. During the day they are cool, bright and airy- with immediate access to the front terrace via two sets of double doors. This area is fully air-conditioned.
Lighting and ambiance can be controlled by dimmer switches or by using standard lights within each room.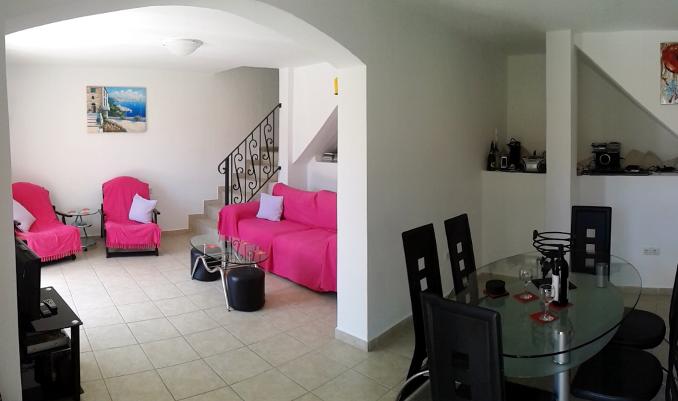 There is satellite TV, a DVD player with a selection of DVDs provided and a sound system that can be connected to a laptop/mp3 player/iPod via mini jack. There is also a small portable CD/radio.
The sofa in the living room can also be folded out into a double bed if required.
The two master bedrooms are fully air conditioned, generously sized, and have balconies with stunning sea views over the Adriatic coast.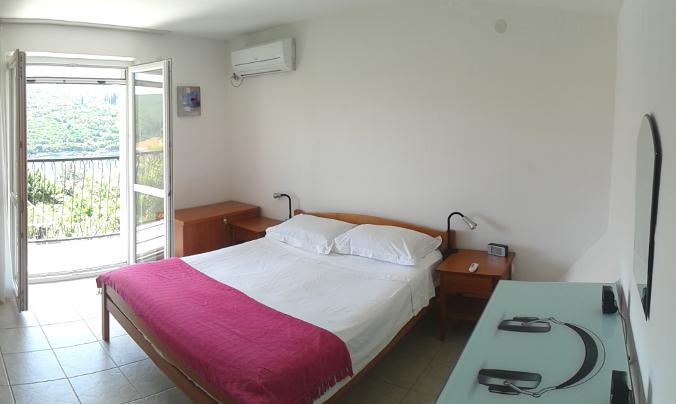 The first master bedroom has air conditioning, a super-king size bed, wardrobe with drawers, 2 bedside lockers with lights, digital alarm clock, USB speaker system, dressing table with mirrorand chair. There are 2 fold-out chairs and small table for the balcony.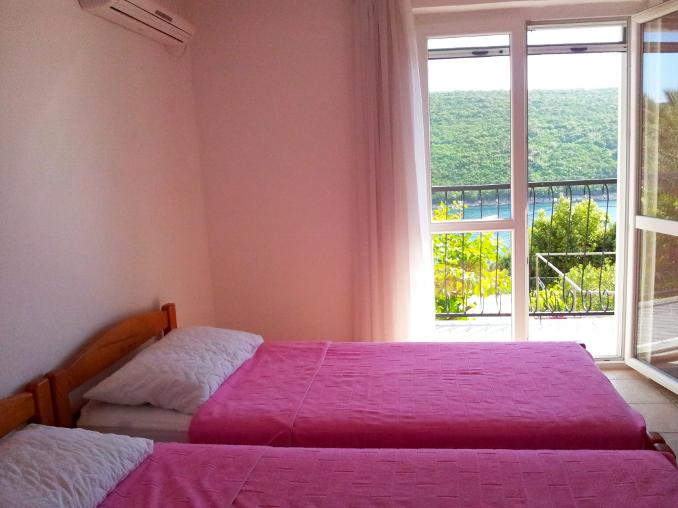 The second master bedroom has air conditioning, two single beds, table,wardrobe, bedside light, digitalalarm clock, mirror, 2 fold out chairs and small table for the balcony.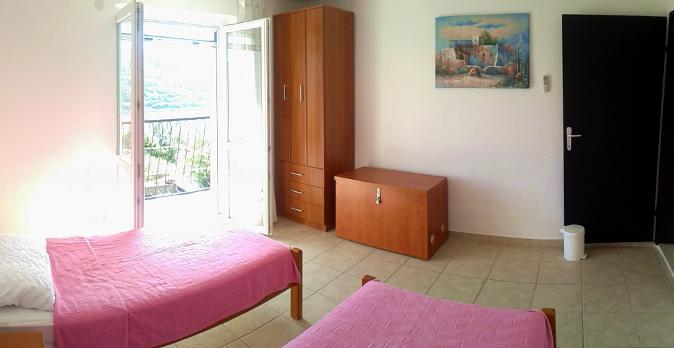 There are another two bedrooms- the first accommodates a set of bunk-beds, and the second has a single bed and folding camp bed. There are bedside lights and air fans in both rooms.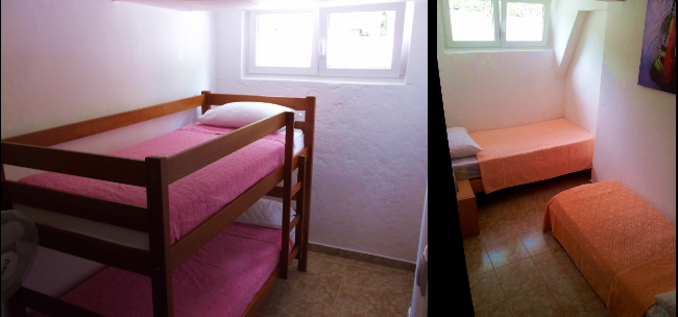 Babies- Cot and High Chair

We can provide a Baby Travel Cot/Crib and Baby High Chair if required
Guests must request this on their booking

There are two fitted kitchens- one on each side of the house. Both are complete with kitchen cutlery, saucepans, kitchen utensils, crockery and a variety of drinking glasses- wine, tumblers, shots, brandy, etc.
The Orange kitchen has a double sink with drainer, water heater, 4 ring hob (2 electric and 2 gas), extractor unit, microwave oven, coffee maker, kettle, and a dual electric oven with grill.
The Orange kitchen also boasts a romantic "table for 2" by the window overlooking the bay.

The Utility room- adjacent to the Orange kitchen, contains a washing machine, tumble dryer, large fridge/freezer, dishwasher, clothes horse, hair dryer, hoover, ironing board and iron.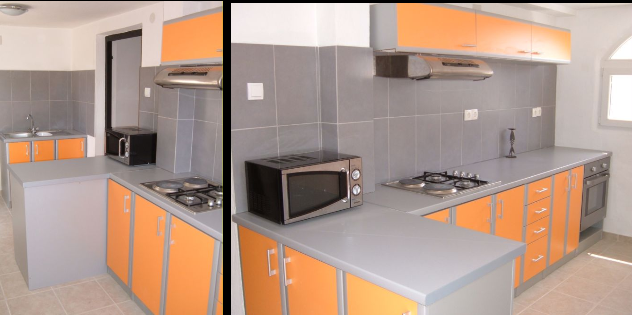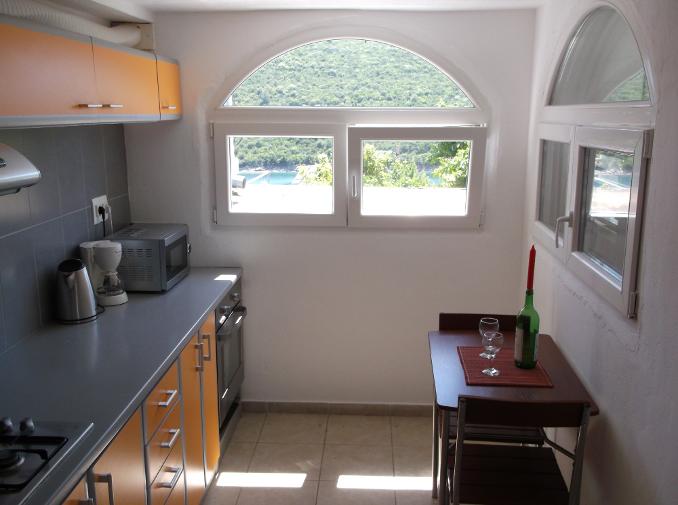 The Red kitchen has a 2 ring electric hob, kettle, under counter fridge/freezer, microwave with grill, and sink with water heater. It also contains a dining area for 4 people with a glass table and chairs.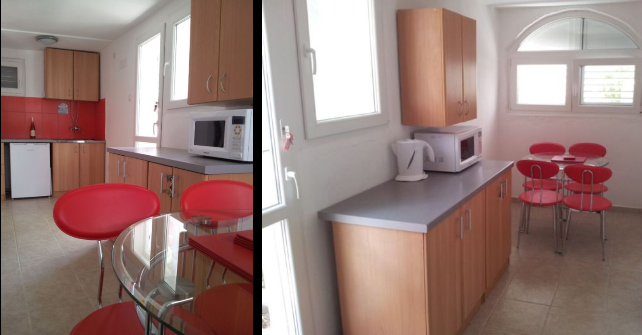 There is a summer kitchenette that opens directly onto the front terrace- it has a sink and portable barbecue.
There are two bathrooms- each contain a mirror cabinet with storage, toilet, towels rails, sink and water heater.
The Yellow bathroom has a walk in shower with marble finishing. The Grey bathroom has a compact bath and fitted shower.
The house has an independent water supply from a 60 cubic meter water tank.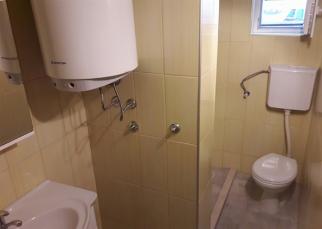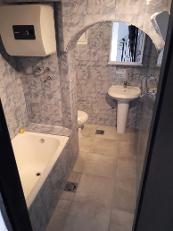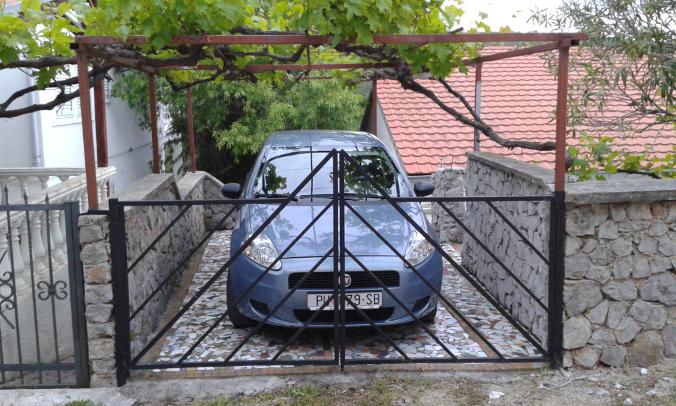 There is private parking at the back of the property under a canopy of grape vines.
There are 3 private entrance ways- 2 at the at the rear of the property (see above) and the second at the side of the property (see below).